You Can Learn
Additional techniques with a variations of the basics.
How to make variation of flowers (ex.chysanthemum, three layered plum, bell flower
How to use "habutae" traditional Japanese silk fabric.
Advanced techniques (double layered maru tsumami, lowering height)
How to assemble adult kanazashi.
Goal for this course
Master the advanced level of traditional techniques.
Master how to make an adult kanzashi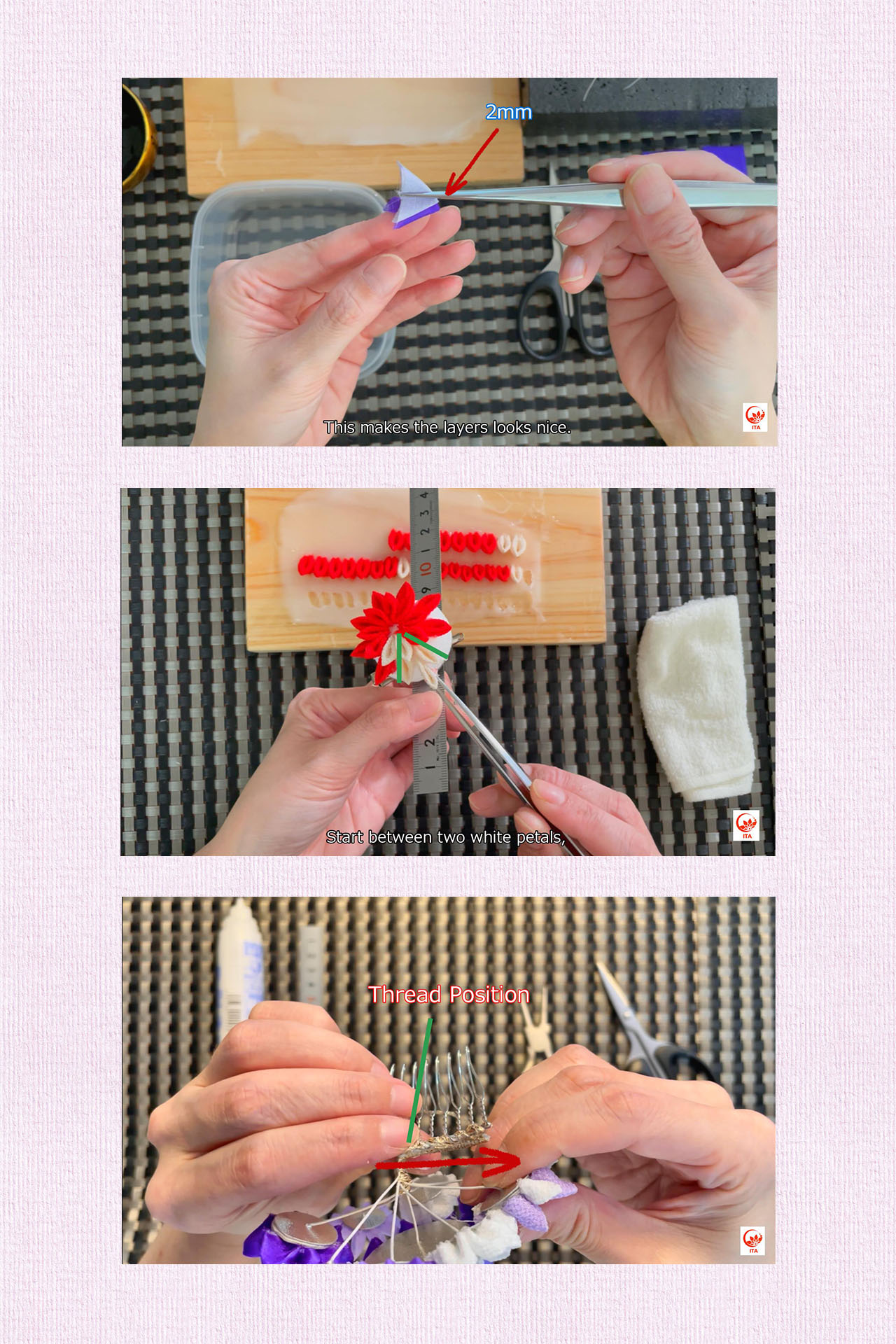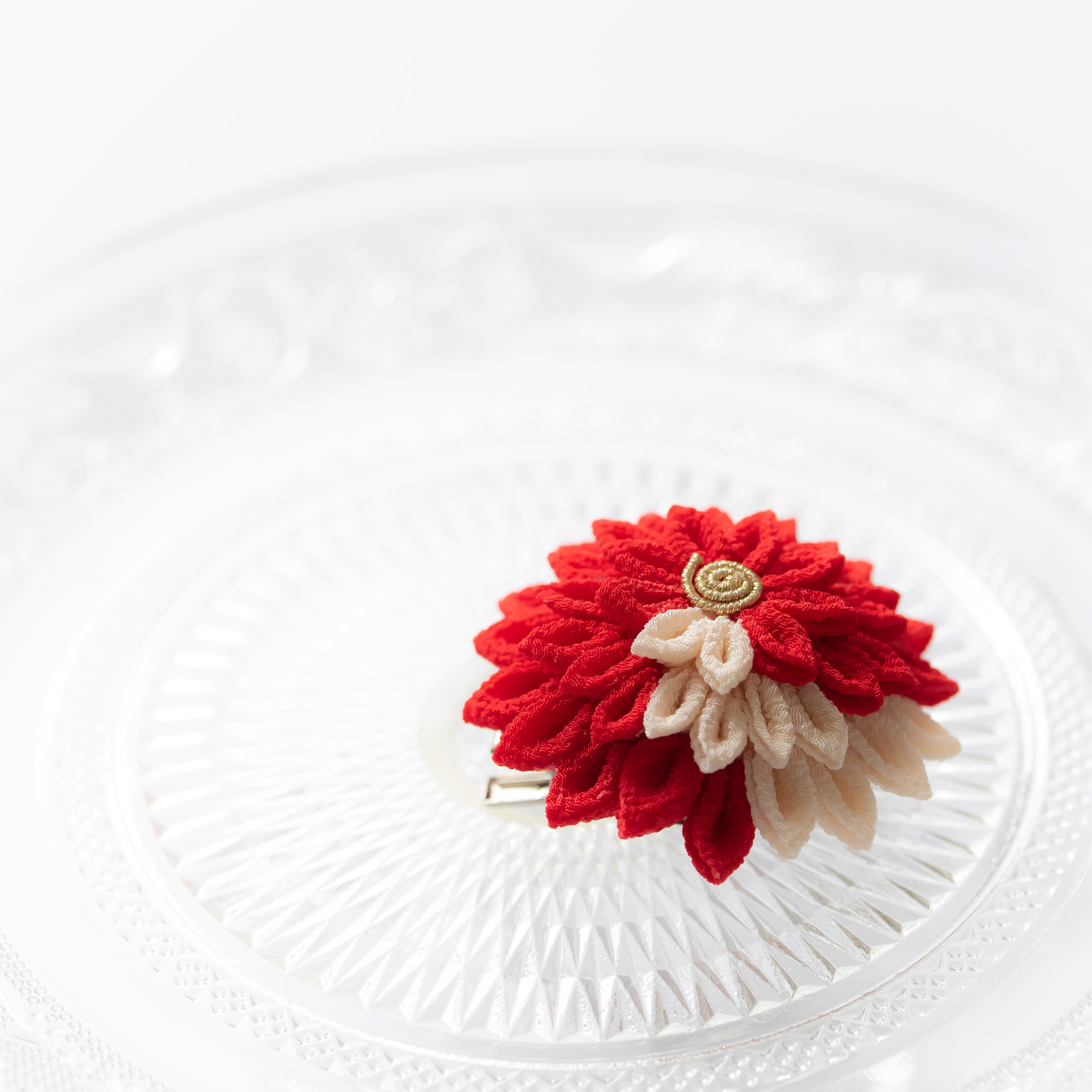 Lesson1
Ken Tsumami Dangiku Clip Brooch
In this lesson, we will make a flower called "dangiku" (chrysanthemum). It is one of the
a large and gorgeous flower, often used as the main flower for Kanzashi. We will be making ken tsumami on the base of the hemisphere from the center. Two colors of chirimen are used to create a design with some sense of movement.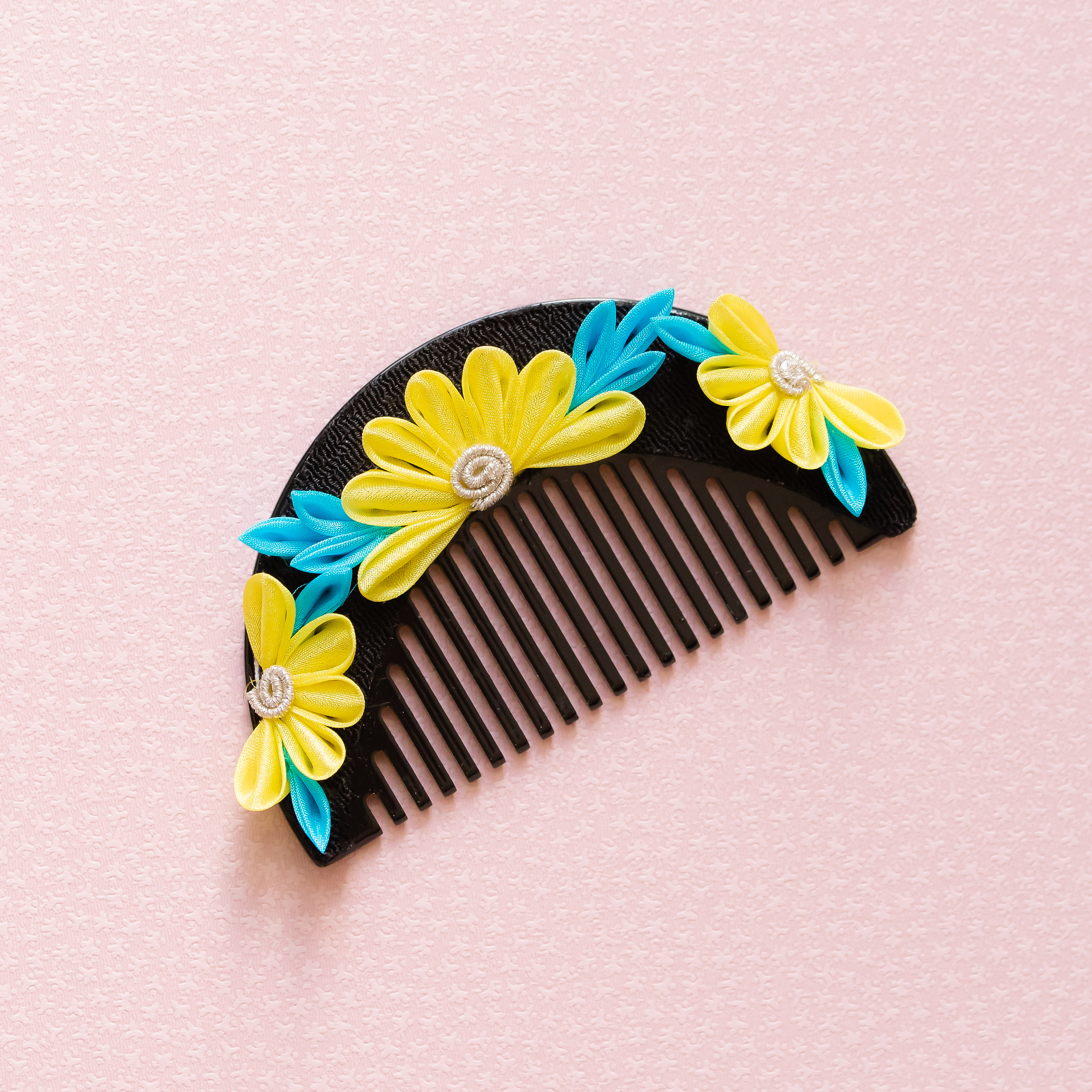 In this lesson, we will make a marugiku (round chrysanthemum) designed comb using Habutae. Habutae is a very thin silk, and it`s another Japanese traditional fabric the most popular fabric among craftsperson. Since it`s very delicate fabric, not so easy to use but you can make more small tsumami than chirimen. We will also learn hashi-kiri technique, the technique to lower the height of tsumami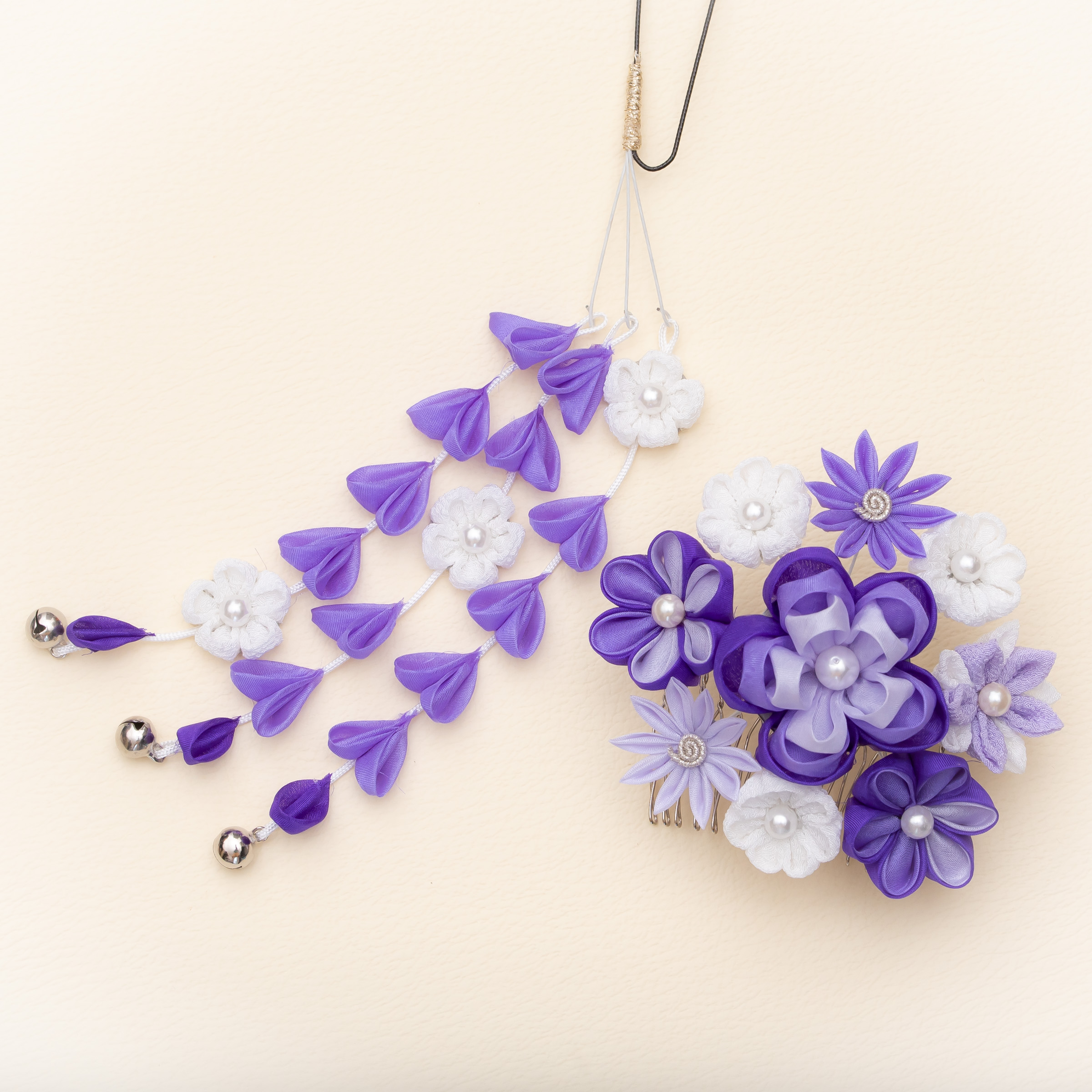 Lesson3
Sandan Ume Kanzashi Comb
In this lesson, we will make an adult kanzashi using habutae and chirimen. The main flower will be a design of three overlapping maru tsumami called "Sandan ume". You will learn the technique of using a large base to make the flowers look larger. You will also learn how to make double-layered maru tsumami.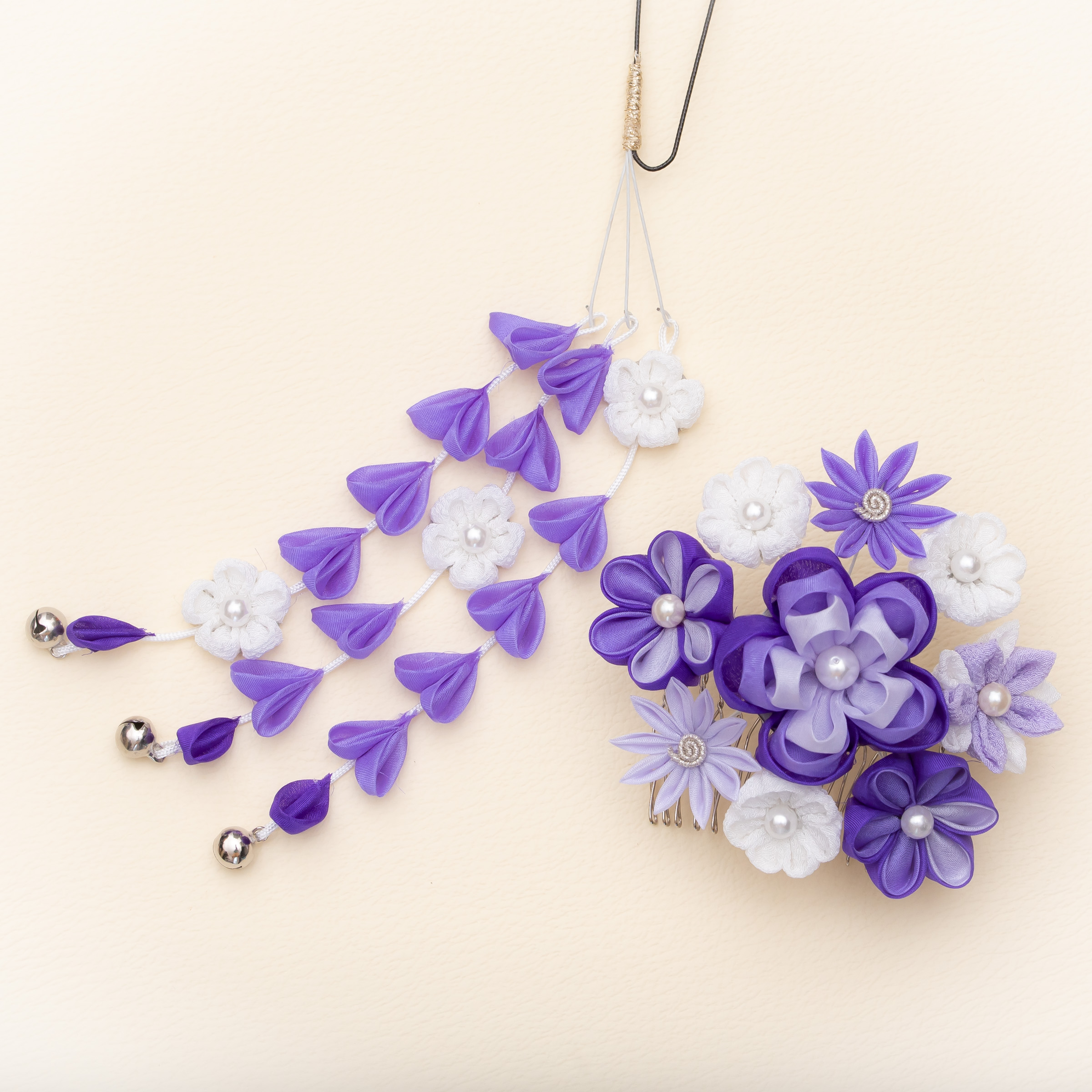 Lesson4
Assembling The Sandan Ume
Kanzashi Comb
In this lesson, we will assemble the ochirin and make it into a kanzashi for adults using a comb. We will also make a sagari design, called "hana-sagari," which means a sagari with a flower attached. Sagari will not be attached to the comb, but instead will be made separately using U-shaped hairpin. This kind of shape can be used for modern hairstyles and goes well with clothes.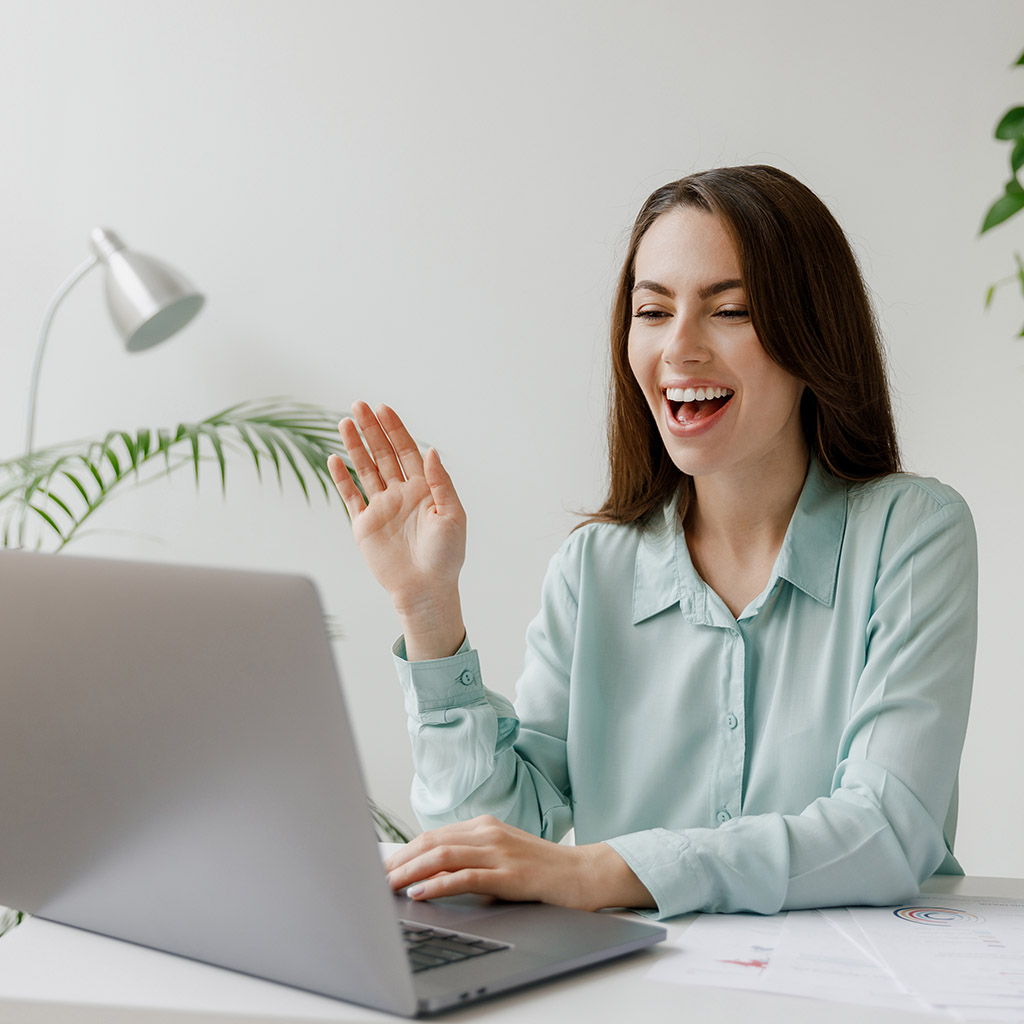 After completing all the assignments, you will get a review from an English-speaking instructor in the zoom session.
For the reservation, contact
Course Materials Available!


You can choose to have materials for the lessons included or not!
You can make authentic Tsumami-zaiku with materials used by Japanese craftsmen if you choose to get a set of materials.
*Fabric color in the materials may be different from tutorial videos due to variation between lots.
Materials will be shipped via Japan Post.
*Due to Covid 19 and the war, in some countries, the shipping of materials has been stopped.

Please contact [email protected] before your enrollment.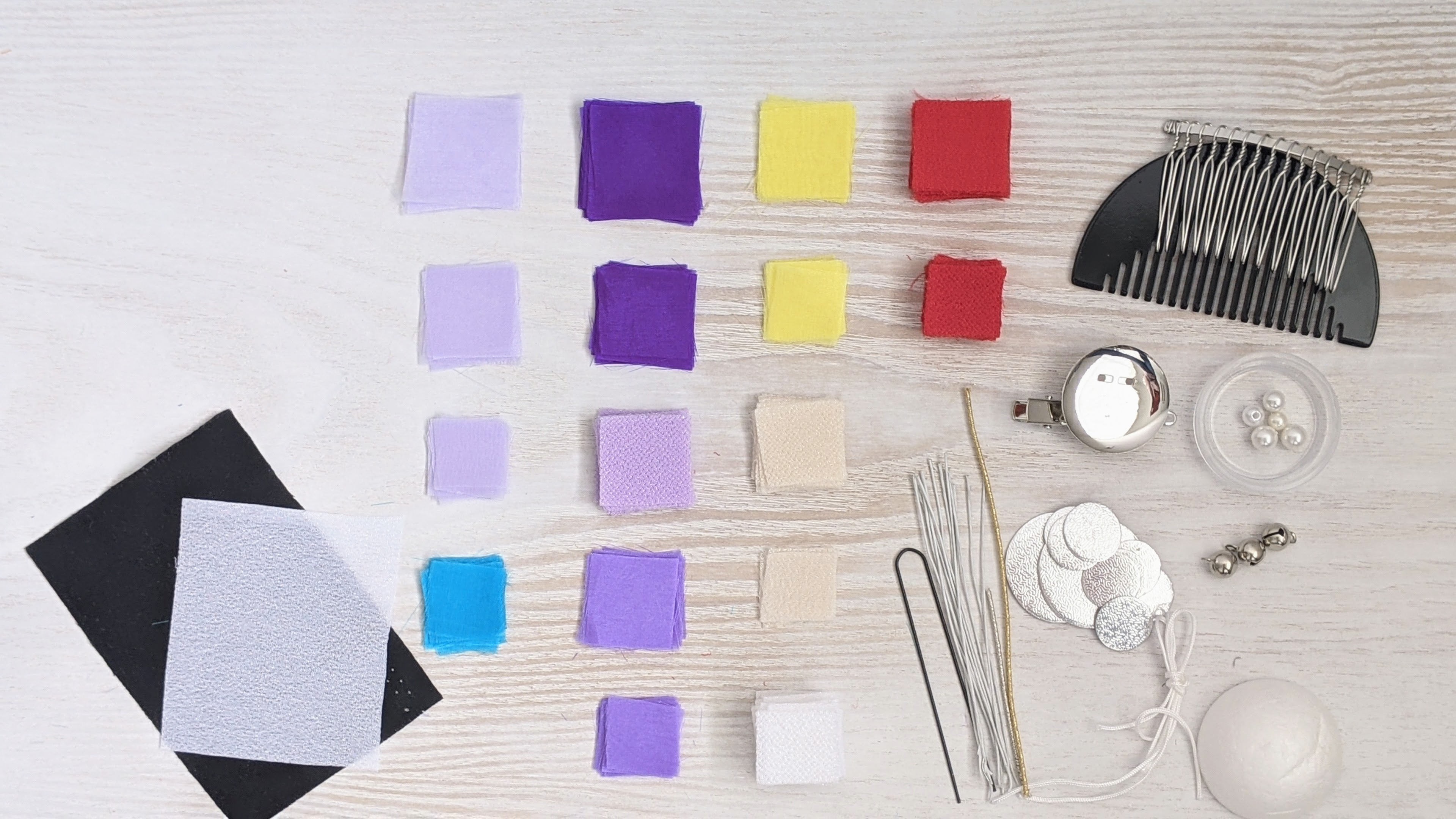 Your Next Course
After taking the Middle Course, we recommend you to take the Advanced Course to learn further more!
Join the ITA Membership to earn benefits!!
Check your inbox to confirm your subscription